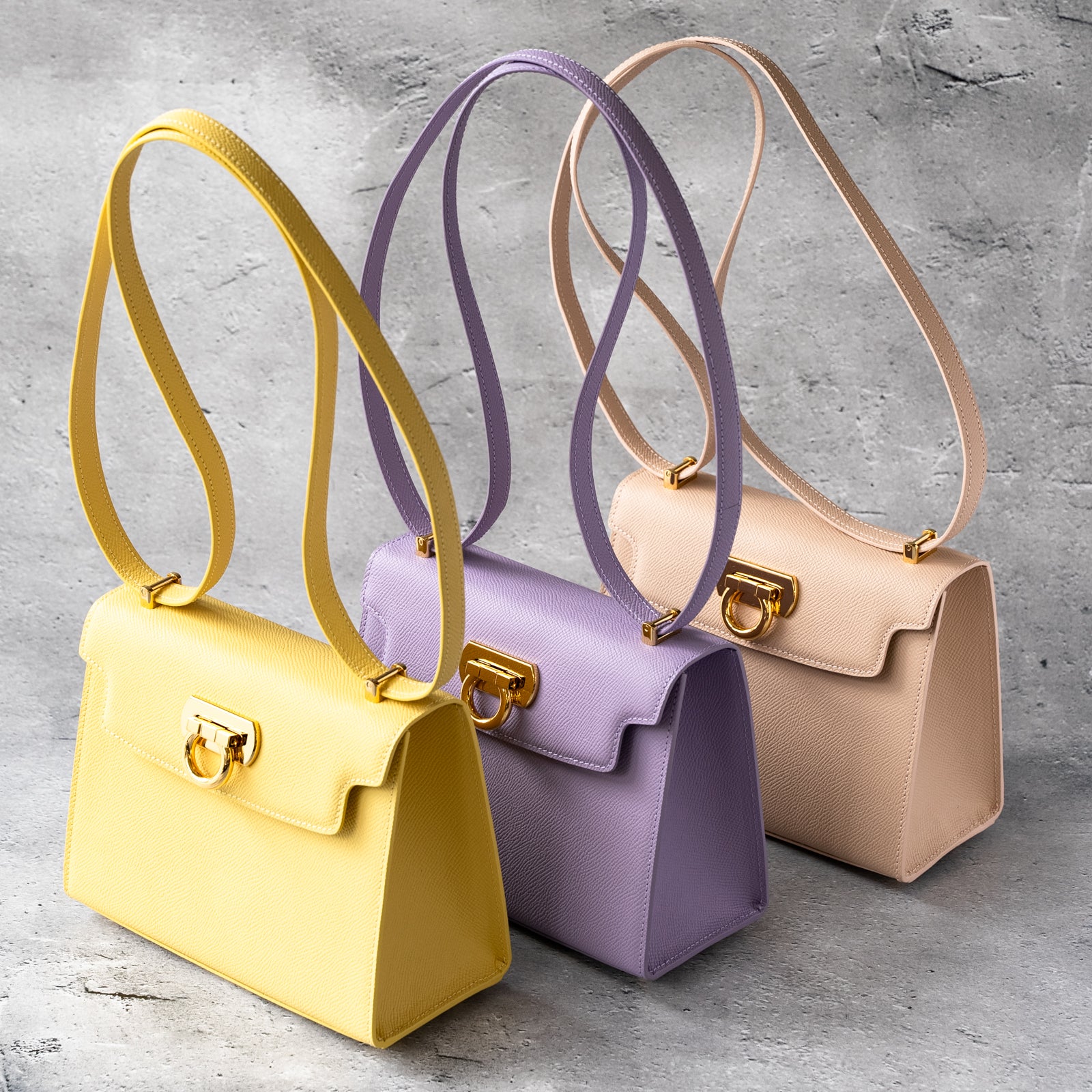 Campanella 20 / Cuir Minerva
---
2 in stock
2 in stock
2 in stock
The Campanella 20 is a formal bag that will not look out of place in a casual setting.
This mini bag, perfect for daily use, is packed with the dedication of a handbag Craftsman. Combining a square form with a softly curved flap design , it exudes sophistication while retaining a delicate, feminine touch.
The unconventional pairing of the mini-sized body, with the bold and eye-catching gold plated clasp, enhances the bag's charm.
The generously plump flap, gently tapered body, precisely finished edges and study made-in-Japan gold plated clasp come together to create a mini bag that encapsulates the essence of a luxury handbag.
This bag will comfortably accommodate compact to medium-sized wallets and smartphones, thanks to its spacious interior. With a 9cm gusset, it provides an ideal capacity for everyday use. On the back of the body you'll find a large pocket, perfect for storing standard-sized smartphones, pass cases, and more, providing the convenience of easy access without needing to open the flap.
Inside the bag, there's also a gusseted pocket.
The shoulder strap is versatile, allowing for both vertical and diagonal wear.
Doubling the strap results in a 60cm length for wearing vertically, while extending it achieves a 110cm length, ideal for diagonal wear.
<Material>
Our selection for this bag is the exquisite Cuir Minerva, a domestically sourced embossed cowhide leather that embodies Philosophy's commitment to quality.
This leather is employed throughout the bag's exterior, interior, and shoulder strap, ensuring a luxurious and sophisticated finish.
Cuir Minerva is a sturdy material that maintains its shape well, resistant to deformation, scratches, and stains, showcasing excellent durability.
It achieves a beautiful natural texture, along with vibrant coloration, thanks to the application of special coatings similar to those used in high-end European leather.
Clasp, studs and other metal parts: Gold-plated.
<Details>
Exterior back pocket: 1
Interior gusseted pocket: 1
Bottom studs

<Size>
W:20cm x H:15cm x D:9cm
(W:8 in x H6 in x D: 3 1/2 in)
Weight: 400g (14oz)
Shoulder strap:
For vertical carry: 60cm (23 1/2in)
For diagonal carry: 110cm (43 1/4in)
shopping guide

About payment

The following payment methods are available.
credit card
PayPal
Google Pay / Apple Pay / Shop Pay

Regarding delivery

The shipping fee is a flat rate of 770 yen including tax.
Free shipping is available for orders totaling 55,000 yen (tax included) or more.
If in stock, we will ship within 5 business days.
If the item is out of stock or made to order, we will inform you of the delivery date separately.

About returns and exchanges

If the product is defective, we will accept returns or exchanges of the product. Please contact us within one week after receiving the product.
Choose options