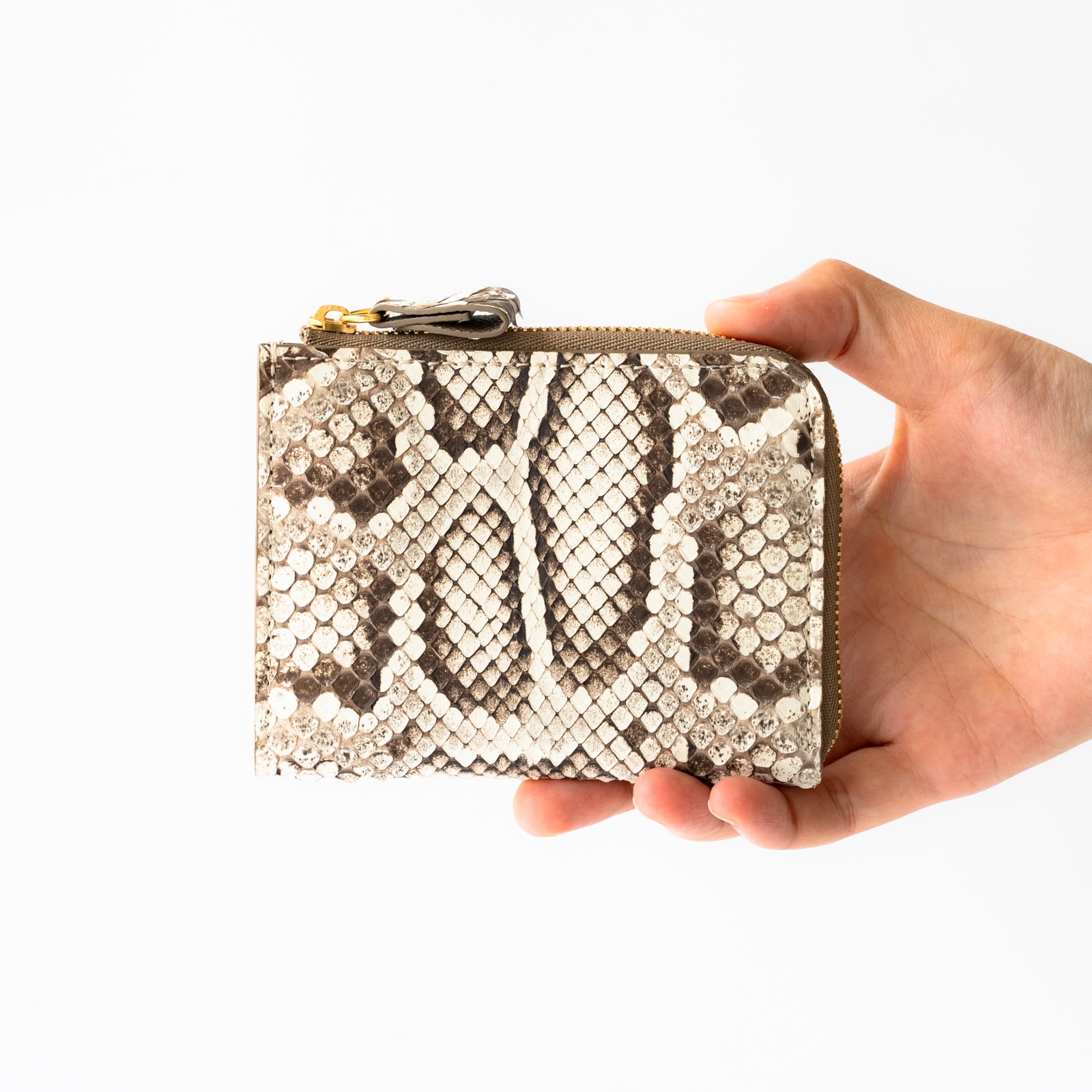 L-shaped fastener minimum wallet / Python
---
This is a slim and minimal L-shaped zipper mini wallet. The addition of a gusset on one side makes it easy to open, adding both ease of access and visual clarity.
The pull tab, molded into a rounded trapezoid, not only complements the wallet's material but also adds a tasteful accent of sophistication.
This wallet provides enough capacity for your cards, ensuring there's room to spare. With a card pocket at the front and one at the back, you can neatly store multiple cards. Bills can be stored by folding them in half.
Small change can be kept in the central coin pocket, which opens widely due to the gusset, making it easier to take coins in and out.
<Details>
・Pocket for Coins /1 Pocket
・Card Compartment / 2 compartments, can store up to 6 cards in total
Each compartment can be used independently
<Material>
Exterior: "Python"
Genuine python leather exudes a sense of luxury and boasts excellent durability. As we have used real python leather, each piece showcases unique patterns and variations in color intensity. It is highly recommended for those who are new to exotic leathers.
The colors for this wallet are natural tones of brown and off-white. These neutral colors make the wallet suitable for use by both men and women, ensuring a versatile and timeless appeal.
Interior: "Cuir Marsh"
A cowhide leather tanned and dyed in factories within Japan, boasting remarkable characteristics: impeccable color rendition and a luxuriously soft texture.
Notably, its exceptional durability resists both color fading and discoloration.
With a rich array of colors, this domestically sourced leather exudes a gentle palette that elegantly resonates with the discerning sensibilities of Japan.
Clasp: Gold plated
<Size>
W11cm x H9cm×D1.5cm
(W:4 1/4 in x H:3 1/2 in x D:2/3 in)
All wallets will be delivered in a magnetic box. You can choose a ribbon wrapping with no additional charge, perfect for gifts.
shopping guide

About payment

The following payment methods are available.
credit card
PayPal
Google Pay / Apple Pay / Shop Pay

Regarding delivery

The shipping fee is a flat rate of 770 yen including tax.
Free shipping is available for orders totaling 55,000 yen (tax included) or more.
If in stock, we will ship within 5 business days.
If the item is out of stock or made to order, we will inform you of the delivery date separately.

About returns and exchanges

If the product is defective, we will accept returns or exchanges of the product. Please contact us within one week after receiving the product.
Choose options