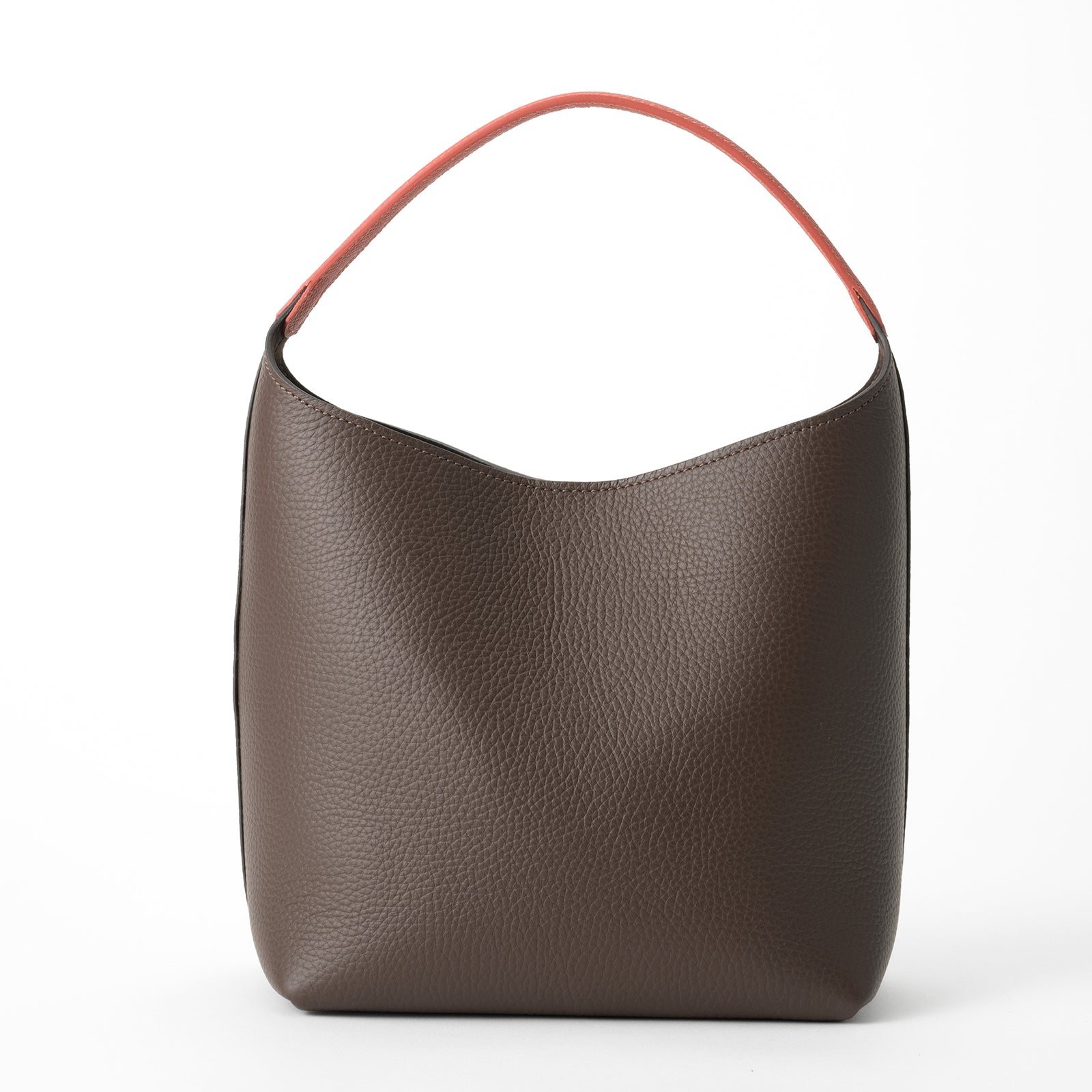 One-handle mini tote 《Marche》 Cuir Mash
---
5 in stock
5 in stock
5 in stock
5 in stock
It is a bag that can be used casually and is easy to use on a daily basis.
The gusset is large, so you can put your small wallet and cell phone essentials in, and there's plenty of room.

A leather flap long wallet (width 17.5cm ) will fit perfectly.

If your wallet is longer than that, you will be able to put it diagonally.
You can comfortably fit a 350ml plastic bottle, a long flap wallet, a business card holder, a towel handkerchief, and a cell phone.
It feels cute and not too big.

We made the design as simple as possible while taking advantage of the texture of the leather.
The main body material is Cuirmash, and the handle is Cuirluminerva.

The lining will be suede.
The mouth is designed to close with a hook.
<Material>
-Body: The leather used for the body of this tote is domestically produced "Cuirmash".
The characteristics of Cuir Mash are its bright color and soft texture.
It feels very familiar and easy to use from the beginning.
In addition, the leather is resistant to fading and discoloration, making it easy to handle on a daily basis.
It comes in a wide range of colors, and because it is made with domestic leather, it has a gentle color tone that fits the Japanese sensibilities.
・Handle: The handle uses Cuir Minerva.
Cuir Minerva is a durable leather that is made of a firm material that does not lose its shape and is resistant to scratches and stains.
The special paint used on high-quality European leather gives the leather its rich expression and beautiful color.
<Size>
Width 18cm x height 18cm x depth 12cm
shopping guide

About payment

The following payment methods are available.
credit card
PayPal
Google Pay / Apple Pay / Shop Pay

Regarding delivery

The shipping fee is a flat rate of 770 yen including tax.
Free shipping is available for orders totaling 55,000 yen (tax included) or more.
If in stock, we will ship within 5 business days.
If the item is out of stock or made to order, we will inform you of the delivery date separately.

About returns and exchanges

If the product is defective, we will accept returns or exchanges of the product. Please contact us within one week after receiving the product.
Choose options